Step2 is an awesome toy company with a vast array of innovative products that encourage imagination. I am giddy to be chosen as a Step2 Test Drive Mom as Kenzie loves their products.
The Little Helper's Wagon (gender neutral Red/Blue color combination) is the perfect size for Kenzie to use. It was pretty simple to put together but I had to improvise (since I couldn't find the hammer) with the meat

te

nderizer

then attaching the wheels to the wagon body. It is made of a durable plastic which makes it toddler friendly, especially when it is bumped into the walls. Kenzie was eager to test out her new wagon and decided to fill it with her "friends".
The wagon itself features two built in seats for your little one's friends. The handle bar moves freely from the up (to store) position to down (for Kenzie to pull the wagon). It's the right size for toddlers and is easy to maneuver. Kenzie packs her friends in and off they go around the house.
The Soccer Ball Toy Chest came at the perfect time. We went to the park the day before and saw two children playing soccer. Kenzie just stared at them until I prodded her to go join. She was about half their size but they encouraged her to kick and she did. She was so enamoured and since she already had two soccer balls at home, she wanted to "play soccer" at home.
There were three parts total: two parts of the base and top. The two parts of the base came a little bent but don't fret because when you fit the two pieces together, it straightens out. Assembly required a screwdriver and socket wrench (3/8). There were 4 screws to attach the two parts of the base but since I had difficulty in assembling, Hubs stepped in. He took a bit of time as the 3/8 size did not work and he ended up using one size smaller. The plastic pieces are a bit thinner than the other Step2 products we own but once finally assembled, it was pretty sturdy. I then stuck the black stickers onto the coordinating spots (with Kenzie's help). I wish there was a tool included (like those they include for wall decals) to smooth the sticker but a credit card will work just fine.
This toy chest is pretty large in size (

26.00 H 26.00 W 26.00 D)

and capacity (5 ft3 (0.14 m3) ). Since Kenzie has somehow amassed an abundance of stuffed animals/dolls I decided this would be the perfect solution of being organized. Kenzie decided otherwise and started gathering all her balls to put into the soccer ball. I guess it makes sense to put balls into a giant ball right? However, I won the battle and now the stuffed animals reside inside. The lid is pretty light and Kenzie can easily open/close to retrieve the toy she wants to play with. This is also a great room decor item. It will eventually be placed in Mason's room once we move.
Check out my video below about the products :) We have owned several Step2 products and the above two are just a fantastic addition.
Make sure to connect with Step2 on Facebook and Twitter!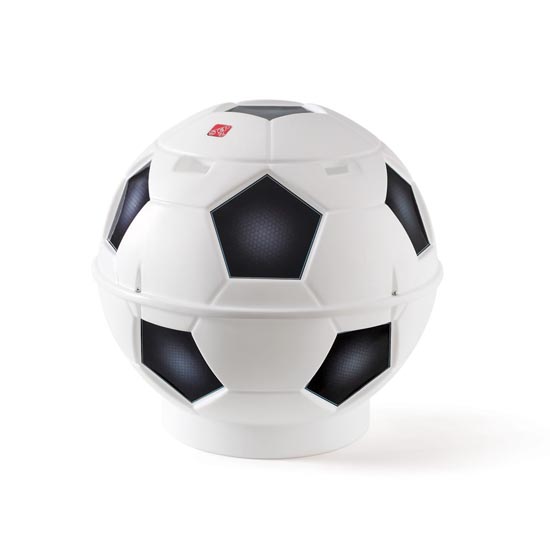 The product(s) in this review was provided to me free of cost for the purpose of conducting this review. All opinions expressed in this review are my own and are not influenced by monetary compensation.