As you may already know, I love bags. Especially dual functioning ones now that I am a mama of two. Maranda Lee's Original Hot Mama handmade bags not only boast delectable printed fabrics, they hold up to the heavy demands of a mama to tots. I received the Medium Emma Bag in the lovely Grey Damask fabric.
First of all, the crossbody bag style is hot right now and the Emma embodies such style. It leaves my hands free to hold onto Kenzie while carrying Mason's carseat. The strap is adjustable so one can wear it at a level comfortable to their body. Secondly, There are six pockets inside so you can stay organized whether it be with baby items or your own. I like to fill the pockets with diapers, formula/bib/burpcloths, extra clothes for Masons in case of blowouts, snacks for Kenzie and miscellaneous knick knacks. The body of the bag also holds wipes, nursing cover, changing pad, swaddle blanket, wallet, bottles/sippy cups, pump and even my netbook on occasion! The contents vary a bit on a day to day basis and will definitely last through the kiddos to become a wonderful regular bag.
Moreover, since the design and fabric allow the Emma to a super lightweight diaper bag, your shoulders and back will thank you as you bend down to pick up your tot(s). Although the "prettiness" of the Emma may deter you from hauling it around with the roughness of a normal diaper bag, don't worry - it's washable (spot and handwash)! This bag fit perfectly underneath the seat during a flight, didn't get confiscated during the security check (I think they just wanted to take a closer look inside the fab bag right?) and survived the journey underneath the stroller through casinos. The magnetic snap closure makes it quickly accessible and allows for even more "stuffage" of items.
Maranda Lee offers different bags as well as different sizes and even custom bags where you can choose your own fabric combinations from a luxe selection. I'm a novice sewer but even I recognize the fabric brands. She even offers coordinating accesories such as changing pads (I am crushing on the chevron print), pacifier pouch, clutches and more.
Buy It: You can purchase the Emma Medium Bag for $74.
Make sure to connect with Maranda Lee on Facebook!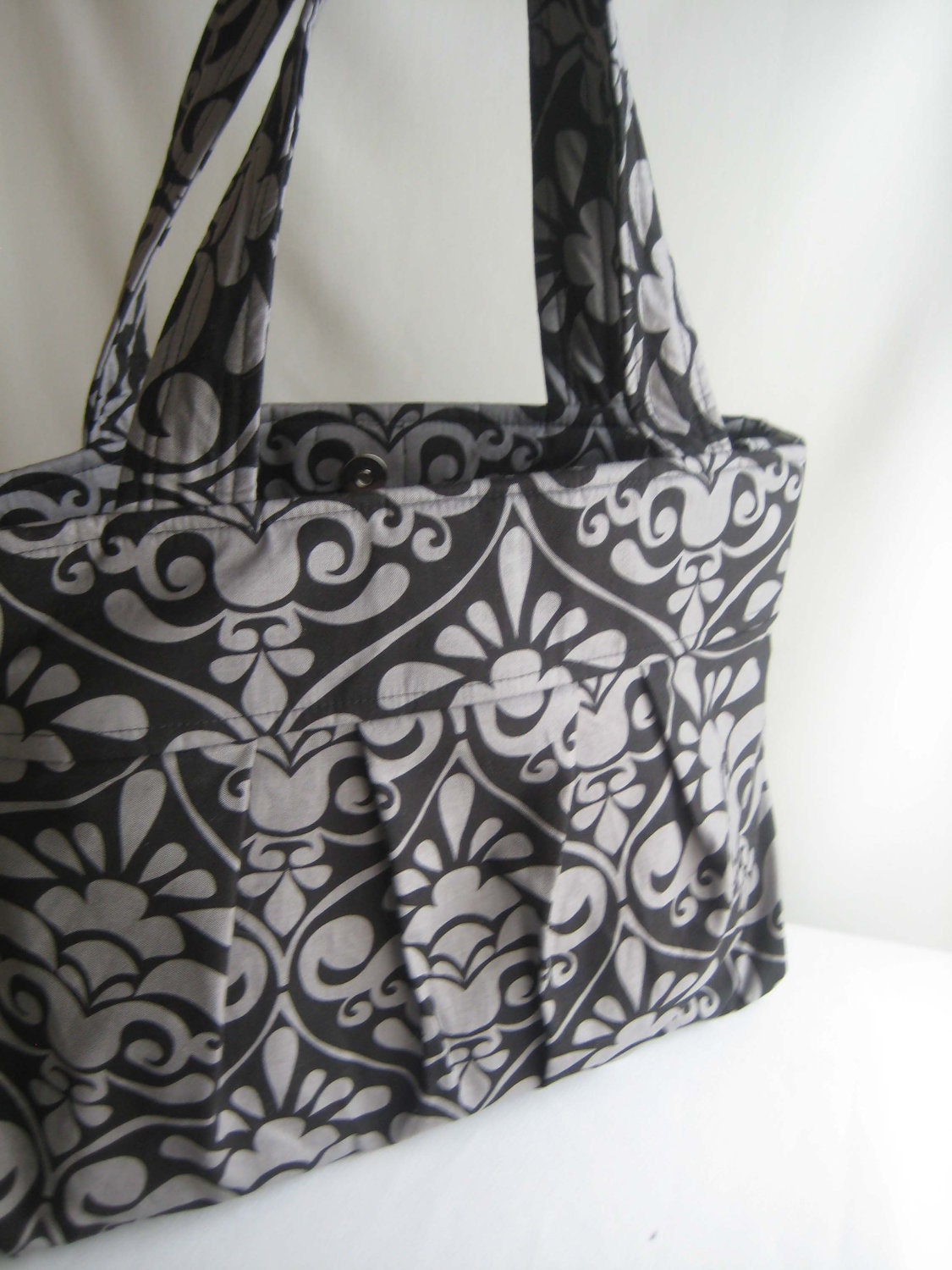 One Winner will Receive the Emma Medium Bag
in the Grey Damask/Gold Castanet Print!
(Open to US)
a Rafflecopter giveaway
Being MVP received one or more of the products mentioned above for free for evaluation purposes. Regardless, all opinions expressed are still 100% my own. I am disclosing this in accordance with the Federal Trade Commissions 16 CFR, Part 255 Guides Concerning the Use of Endorsements and Testimonials In Advertising. Being MVP Disclosure.