When I was growing up I remember my mother perusing the Avon catalog and ordering massive amounts of product. I actually used the Skin So Soft line :) Now a mother myself, I was excited to learn that Avon has come out with the Tiny Tillia line which is chock full of baby and toddler clothing, toys, decor, bath/body products and much more. Kenzie received the Ben Giraffe raincoat and matching Star Rain Boot.
She was hesitant at first to try the boots because they were a bit large (even though we received a size 7, it seems to run big). However, one day she just put them on herself and started jumping around. Since that day, Kenzie puts on her rain boots everyday and jumps around the house. It hasn't rained yet so we haven't gone outside with them. The boots up about mid-calf and there is a soft jersey lining to keep feet comfortable. The star design pops against the orange boots and who doesn't love the orange/blue combo (go Gators!)?
The Giraffe raincoat is equally adorable with the pop of orange: buttons and hood lining against the blue coat. The coat is made of a water-resistant microfiber and features a reflective tape for visibility - perfect for keeping little ones safe while out playing in the rain. I like that this raincoat is machine washable so when Kenzie does actually get into the rain and gets dirty, I can just toss it into the washing machine to make it new again.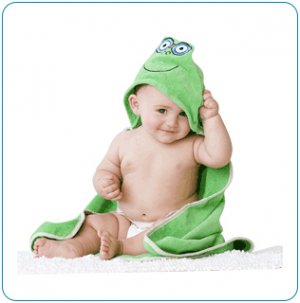 Bean received the Trace Frog Hooded Bath Towel. It is made from 100% cotton terry and is pretty large in size (29" x 29"). Kenzie can actually use it as her towel until bean arrives. The towel is fluffy and the hood is great for keeping bean's head warm after a bath.
I like that Tiny Tilia also offers products for mom such as diaper bags and bath/body products. The moisturizing stretch mark lotion would be perfect right about now in my 37th week :)
(Open to US)
a Rafflecopter giveaway
The product(s) in this review was provided to me free of cost for the purpose of conducting this review. All opinions expressed in this review are my own and are not influenced by monetary compensation.