Since I'm with bump, I really like clothes that can accomodate it as well as be worn well after bump is no more. Midnight Velvet has a range of clothing that can be worn by all age groups and is classic yet on trend.
The Tiered Denim Dress is a maxi dress with tiered layers and a cinched waist which is adjustable. The cotton material is not too heavy but not too flimsy either. It is the perfect weight for Spring/Summer. The smocked waist is also very flattering whether or not one is pregnant although I do imagine myself looking a bit better without bump in this dress. The straps are adjustable so that's convenient for those who need to lengthen/shorten the top. The cross-over top is great for nursing as well :)
Midnight Velvet carries unique and original designs in clothing, accessories, shoes, jewelry, health/beauty and home. Some of my favorites include: Azure Medallion Maxi Dress, Maxi Dress, Stained Glass, and Boho Summer Dress.
Make sure to join in the Midnight Velvet Twitter Party to chat about all things fabulous from clothing, accessories, shoes, makeup & more & WIN SOME PRIZES! Tuesday, March 27th, 7:00PM CST. #MVFabLooks. Follow @shopmv.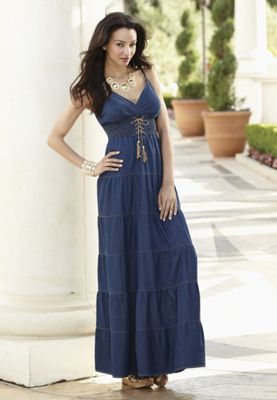 Midnight Velvet (ARV $119.95-129.95)!
(Open to US)
a Rafflecopter giveaway
Disclosure: I received this item free of charge from Midnight Velvet. No monetary compensation was received or offered, nor was I under any obligation to write about this product. All opinions expressed are my honest thoughts on this product. I am not offering any sales or taking any orders for this item. I will not receive any compensation in connection with any sales of this item. Sponsors reserves the right to substitute the giveaway product for an item of equal or greater value depending on sizing and inventory.