A Blogtastic Extravanganza 3.0 Sponsor Spotlight
(1.23.12-1.28.12)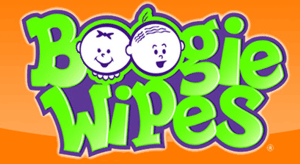 According to Kenzie's pediatrician, flu season has not yet started. Boogie Wipes came just in time to relieve Kenzie's poor nose or rather the space between her upper lip and nose. She's had a runny nose for the past few days and although her tissues are soft, after constant rubbing, she was a bit raw.
Kenzie received the Unscented, Grape and Fresh Scented wipes and I received a few Saline Soothers samples. We immediately whipped out the grape single wipe and the smell was very refreshing and the wipe was generous in size. It can definitely wipe up a lot of boogies/snot. The on the go packs are perfect to toss into your diaper bag when you are out and about so tot is relieved immediately instead of being rubbed red by normal tissues/napkins (you know you've used restaurant napkins in a pinch).
I am happy to report that Kenzie likes to smell and wipe her nose with her new Boogie Wipes. After she is done wiping her nose, she also likes to clean surfaces with it.
Purchase Boogie Wipes HERE!
WIN IT! Boogie Wipes is offering 2 Packs of Wipes (ARV $10)
for A Blogtastic Extravaganza 3.0!
The product(s) in this review was provided to me free of cost for the purpose of conducting this review. All opinions expressed in this review are my own and are not influenced by monetary compensation