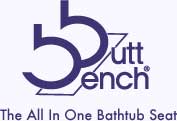 Create a spa and zen-like experience in your shower/bath with the Butt Bench - funny name, awesome product. I usually see "seats" in luxurious bathrooms on TV along with all the fancy details. I received the 15 inch Cedar Butt Bench and was able to make my bath a bit more fancier.
The Butt Bench comes ready to install out of the box with two suction cups (easy to move from one bathroom to another). It is made of high quality, sturdy wood that is water-resistant. The 15 inch width fit perfectly on our plastic one-piece tub (so sad). I remember during the latter months of pregnancy just wanting to rest in the middle of my showers... yes I was that uncomfortable. The Butt Bench is the perfect solution for mini-breaks as well as allowing for hair conditioning time and easier shaving (instead of the balancing on one leg with other on the shower wall).
It is pretty thick in width and does not wobble at all when you are sitting on it. It has enough room to store all your shower necessities (yes we have tons and even duplicates). The only thing that needs to be maneuvered is the shower liner. I have to fold it a bit toward the back so the water doesn't splash out of the shower. My MIL saw it and wanted one but since their home is older, one of their bathrooms only has a shower and the other has a sliding door on the tub. Overall, I am very happy to have a bit of flair in the tub.
One Winner will Receive a
Butt Bench
of Choice (ARV $44-$56)!
a Rafflecopter giveaway
The product(s) in this review was provided to me free of cost for the purpose of conducting this review. All opinions expressed in this review are my own and are not influenced by monetary compensation.